Digital Nomad Life: tech in my backpack
- 4 minutes read
- 703 words
Anything that goes into my backpack has to earn its place there.
This past year, I have lived in 6 continents, 17 countries, 7 time zones and 21 cities. All this while working a full time job, remotely.
Work is my primary goal. Work is what enables me to live this life. So obviously, being connected is the center of my focus. Additionally, I am part of the Infrastructure team at BuzzFeed, which means, I have to be oncall for a week every month and be generally available 24/7, at other times.
So, what do I carry around?To be honest, what I carry around changes a lot!
Anything that goes into my backpack has to earn its place there and needs to be used at least once a week for it to keep its place.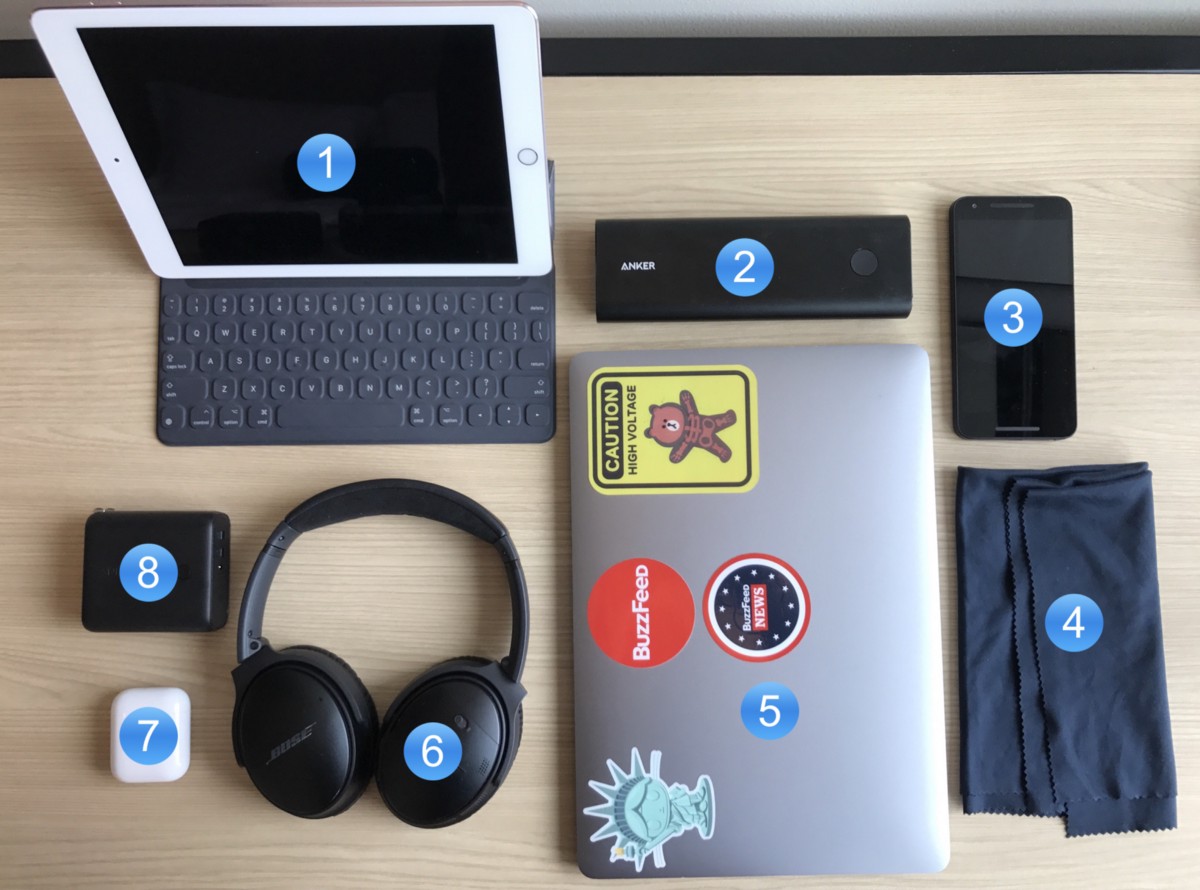 Preface: None of this would be possible without my trusted powerhorse, my Apple iPhone 7 Plus. Honestly, its the driver of my existence. Takes photos that aren't too shabby (instagram.com/sricola), lives up to battery life expectations and the large screen means I can read, write or watch anything on the go.
**iPad Pro 9.7 (4G LTE) with Smart Keyboard **— this is my go to device when I want something larger than my iPhone but don't want to pull out my laptop — to check my email, read, watch videos or pretty much anything else. With T-Mobile's data service on it, I get high speed internet while in the US, Canada and Mexico — and manageable, albeit slower speeds outside the North American continent.
Anker PowerCore+ external battery (link) — keeps my devices charged and the gigantic 20,100 mah battery means there is plenty to go around. It also has a USB-C charge port which means I can also charge my MacBook Pro with it! That in itself is a huge selling point to me.
LG Nexus 5x with Google Project Fi (link, we both get $20 if you sign up)— this is my secondary phone. I use it to get high speed internet while roaming at the not-so-great-but-also-not-so-terrible price of $10/GB. Savior when you need that bit of fast internet, no matter where you are — Bali to Tokyo to Santiago — wherever you go. The phone is also unlocked meaning I can pop in a local SIM if needed.
MicroFiber Cloth (link) — I mean, all these devices are finger print magnets and nobody wants a dirty screen. What can I say? I am obsessed with clean screens.
MacBook Pro, Non Touch Bar (link) — I love and hate this little laptop. Battery life is hit or miss, glitchy af on graphics, overheats BUT it's light, and can be charged using the aforementioned battery pack. I have come to love the lower profile keyboard.
Bose QC35 Noise Cancelling Headphones (link) — Bose makes solid acoustic devices. They aren't my ideal sounding pair, but the bluetooth functionality and noise cancelling makes this a god send on flights or in a noisy environment. Battery life gets me through 8 hour flights with ease.
**Apple AirPods **— okay, this was a hard sell to me. They are also hard to find since Apple can't figure out the supply chain. Apple's older wired EarPods never stayed in my ear, and I was skeptical about these. But, without the dangling wires of the old style, these actually stay in my ear! I wouldn't dare to jaunt across the street with them in my ear, but they're great for casual listening. They stow away easily and the battery life is decent.
Anker PowerCore Fusion (link) — this is the swiss army knife of my life's power needs. Not only is it a multi port USB and USB-C charger, it also has a built in battery that charges itself. The in-built battery is on the smaller side, but its good enough to charge my iPhone 7 Plus up at least once.
Other Honorable Mentions
US Power Strip — I have a mini 3 outlet power strip. Top Tip: With this, you only need one outlet and one convertor to plug in all your devices.
Cables — I mean, there is no way around this. You will end up with a tonne of cables.